cutting-edge technology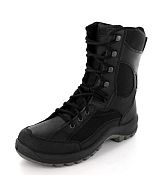 Delta
The VÖLKL Delta is the boot like version of the Delta family. With a leg height of 22 cm it is the first sneaker on the market.
VÖLKL Safety Technologies
Our soles are moulded from a special non-slip mix of nitrile-rubber. It is not a case, that they fulfill the SRC certification without leaving traces in your hangars for their non-marking properties. Furthermore, they are equipped for a perfect fit on a ladder with a footbridge profiling. They are also resistant to abrasion, oil, petrol and acid.

Anti-statics, on one hand aims to protect the wearer against electric charges, but on the other is nevertheless supposed to let the wearer know that he is contact with a power source. In addition, the shoe has to discharge the electrostatic charge of the wearer in a controlled way in order to avoid sparks or explosions in flammable atmospheres. Usually firefighting boots lose their decreed anti-static effect when the insoles are replaced with different insoles than the ones from the original manufacturer. Our VÖLKL boots reach anti-statics through the connection of a strongly insulating rubber-PU blend and a conducting strip incorporated in the shaft (see picture). In the conducting strip metal threads are woven, which discharge the electrostatic charge permanently. Thus, anti-statics remains permanently, even if you change the insoles.
VÖLKL Comfort Technologies
VÖLKL shoes are often lighter than the ones of commercial competitors. We directly incection-mould our sole and through this construction we get a more convenient blend of less rubber and more Polyeruthan. Since Polyeruthan is much lighter, the total weight of our shoe is reduced considerably.

In order to increase air circulation inside the boots in some of our products we use high-performance 3D mesh. The mesh consists of two layers that are held apart by nylon sticks. In this a 2mm thick layer is created through which air can circulate. In addition, the mesh is opened towards the foot. This reduces the direct contact area between the foot by about 50%. The boots have the right temperature also after extended wearing and do not develop any heat accumulation.

Thanks to the specific VÖLKL sole concept our boots have extremely good damping properties. The trick: the soles are incection-moulded directly onto the shaft. First of all there is a damping and lightweight, 2 cm thick polyurethane layer. THis layers is enclosed by a 4 mm thick, heat-resistant rubber layer. The special feature here is that the polyurethane layer is distributed throughout the sole, that it absorbs and that it has insulating properties. Thus, joints, spine and intervertebral discs are noticeably relieved.

Our boots have a strong insulation against extreme cold temperatures. Due to the special injection-moulded sole concept VÖLKL soles contain a thick layer of polyurethane that can be even seen laterally. In polyurethane small air bubbles are trapped. Thus, polyurethane with the "isolation by air" principle is similar to series insulators such as Stryofoam or glass wool that are used in constructions. The best cold insulation test values are measured in combination with a natural cork insole. In our VÖLKL Rescue and VÖLKLDelta boots the temperature decrease after 30 minutes in a -17 ° C cold environment is only 2.8 ° C. Our VÖLKL Röhn and VÖLKLGrönland boots this value is even smaller and, in the VÖLKL Overshoe it is very good too, though it depends also on the boot that you are actually wearing.

VÖLKL boots are made out of high quality and water-repellent materials: including hydrophobized leather and water-repellent threads. So we can prevent that liquids with low surface tension, such as gasoline, can enter the boots.
VÖLKL Basics
The following product features concern all boots of our fire fighting range.

Thanks to this technology our shoes mantain their original form even after years of wearing. In addition, this material prevents ankle-twisting.
They help you get started and allow quick entry. Completely sewn pull-on loops are absolutely tearproof.